Cajun on King
Tuesday to Saturday nights at 5 p.m.
Located upstairs above The Public House at 343 King Street you will find Cajun on King offering an authentic taste of Louisiana in the heart of downtown Kingston.   It is Mardi Gras every day at Cajun on King as we celebrate the Acadian and French Canadian traditions of 'Cajun'  country USA.  Gumbo, shrimp,  craw fish, frog's legs and alligator combine with traditional steak, pork, chicken and catfish to offer a true taste of N'awlins!  You will feel like you are on Bourbon Street with a sexy setting, great jazz and zaideco sounds.  Raw oysters are available every night.  Our Cajun cooking is more in the traditional of French Acadian country cooking with only a slight amount of heat.  Heat was largely introduced into Louisiana cooking by Creole influences and Spanish America.  The spicy dishes on our menu are clearly marked on the menu and most dishes can be adjusted to your level of spice.  Our cocktail bar features famous Louisiana beverages like Absinthe, the Hurricane, the Sazerac and the Mint Julep.  You must try our Creole Caesar as well!  The restaurant opens at 5 p.m. Tuesday to Saturday nights.  For reservations call 613-767-7136 or contact us using the link below.
MENU
View our menu:   winter-menu-2018-19
UPCOMING EVENTS
CAJUN HAPPY HOUR
Enjoy discounted select draft beers and local winesTuesday to Thursday from 5:00 to 7:00 p.m.   As well we will offer our raw Atlantic oysters for just $1.50 each.  What a deal!  Laissez les bons temps rouler!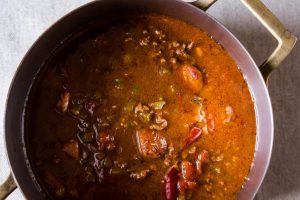 Traditional gumbo with pork sausage
INFORMATION & RESERVATIONS: 613-767-7136
343 King Street, East, Kingston, Ontario (second floor above The Public House)
Paul.Fortier@foodandheritage.com