Sir John's Public House, Kingston, Ontario

343 King Street (near Market Square) Kingston, Canada    Reservations: 613-766-9296
For Upcoming Special Events – Scroll Down
Sir John's Pub occupies the building used by Sir John A. Macdonald as his law office from 1849 to 1860. Macdonald began his political career during this formative period and of course later became Canada's first Prime Minister. He is credited as being the individual most responsible for Canada's Confederation in 1867.The pub has a cozy atmosphere and reflects the style of the mid-nineteenth century when it was occupied by Macdonald. It is only fitting that today the building should be a Scottish pub heralding Sir John's Scottish origins and his fondness for the drink. The pub features a good selection of imported and local beers and a large selection of Scottish single malts and blended whiskies. The menu is reasonably-priced and features many traditional Scottish dishes and contemporary casual dining. Customer favourites included the fish & chips, the Angus beef burger plate, the Forfar bridie meat pie, the turkey pot pie and the lamb shank. Other lighter and vegan plates are featured as well. A Sunday Brunch is offered from 10:30 to 3 p.m. and presents a variety of tasty dishes for just $10 each. Lunch specials are available Monday to Saturday for just $9. From mid April to October 31 you can enjoy a beautifully decorated patio which faces King Street.
Sir John's offers one of the best happy hours in Kingston.  From 4 to 6 p.m. enjoy Sir John's Hospitality both in the main pub and upstairs in the Great Hall.  Great discounts for draft beer, local wine and feature liquor with snacks at the bar.  It is always popular with locals and visitors to Kingston as well.
In celebration of Sir John A. Macdonald's 200th birthday we have opened an elegant Great Hall on the second floor above the main pub.  The Great Hall can accommodate up to 100 guests for reserved events and is open daily from 4 p.m. for food and beverage service.  The Great Hall features a vaulted ceiling, antler chandeliers and an impressive bar with a great selection of local wines, beers and Scotch whiskies.  The Great Hall offers a quieter dinner location to the busy pub downstairs and then turns into a popular late night destination for drinks and snacks.
Open daily from 11:00 to close (Sundays 10:30 a.m.) Lunch – Dinner -Sunday Brunch and Late Night Menus
Wednesday evenings from 4 p.m. are Country-Western Wednesdays featuring your favourite country tunes from 4 p.m.  Half-price chicken wings are featured on Wednesdays after 6 p.m. and don't forget hospitality drink prices from 4 to 6 p.m.
In the first floor pub on Tuesday evenings from 8:30 to 11:00 p.m. is our local Irish Session group performing traditional Irish tunes.  Come by and listen to some great music and enjoy a drink or snack!
UPCOMING SPECIAL EVENTS

FEB FEAST:  SUNDAYS TO THURSDAYS DURING THE MONTH OF FEBRUARY
Join us for FEB FEAST Sundays to Thursdays during the month of February as we feature our Angus Bacon Burger Plate and our Curry Chicken for just $9.99.
DRAFT BEER & CIDER SELECTIONS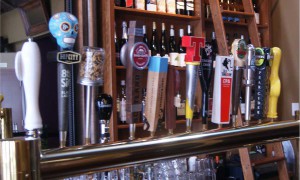 Moosehead Lager (New Brunswick)
Tennents Lager (Scotland)
Innis & Gunn (Scotland)
Guinness (Ireland)
Magners Apple & Pear Ciders (Ireland)
Waupoos Apple Cider (Prince Edward County)
Beaus Lugtread Lager (VanKleek Hill)
Steam Whistle Pilsner (Toronto, Ontario)
Gananoque Brewing Company (Gananoque, Ontario)
MacKinnon Brothers Brewing Company (Bath, Ontario)
Hot Bot Brewing Company (Toronto, Ontario)
WEEKLY FEATURES
MONDAYS – domestic pints $5.31
TUESDAYS – 1/2 price nachos after 6 p.m.
WEDNESDAYS – 1/2 price chicken wings after 6 p.m.
THURSDAYS – tankards (34 oz.) $6.20 after 6 p.m.
SUNDAYS – $3.98 Caesars from 11:00 a.m. to 6 p.m. and tankards $6.20 after 6 p.m. / Brunch from 10:30 – 3 p.m.
We present Kingston's best Happy Hour from Monday to Friday from 4 to 6 p.m.  We feature all draft beers, rail drinks, house wine and a feature Scotch whisky for $4.87 plus taxes.
MENU
APPETIZERS

Deep-fried dill pickles $10
Haggis fritters $11
Vegetable nachos / add haggis $13 / $16
Thistle chips $14
Chicken wings $11
Braveheart combo sharing platter $22
Cheddar-whisky pub spread (Gruth Dhu) $13
Poutine (regular / with bacon / with haggis) $9 / $10 / $11
Home cut chips $8
Oban onion rings $8
Jalapeno cheese poppers  $11
Garlic cheese baquette  $10
SOUP, SALADS & STARTERS
feature daily soup  $8
traditional French onion soup  $12
large Caesar salad / with chicken / small Caesar   $9 / $12 / $7
beet Caroaccui salad   $14
large garden salad / small salad  $8 / $6
Scotch egg plate   $10
potted rabbit plate    $14
SANDWICHES
Tory club sandwich $13
salmon & brie sandwich    $14
chicken thigh sandwich  $12
Wrap sandwich plate / with chicken   $11 / $14
MAIN COURSES
highland lamb shank $18
Canadian Pacific Railroad local buffalo burger   $15
Angus beef burger plate $15
vegetarian haggis with a roasted Portobello mushroom [vegan] $16
Firth of Forth fish & chips $14
Sir John's chicken curry $15
Fofar bridie beef pie $14
Angus strip loin steak & chips $22
 maple baked salmon  $17
turkey & ale pot pie $14
Macdonald macaroni & cheese $12
Sir John's chicken curry   $15
lads and lasses chicken fingers & chips $14
garlic jumbo shrimp   $18
pulled pork Yorkie   $16
DESSERTS
Warm apple crumble $7
Mars bar in batter $7
Scottish cream crowdie  $7
SUNDAY BRUNCH   (served from 10:30 to 3 p.m.)
cinnamon waffle with fruit, toppings, bacon & syrup  $10
stuffed French toast with bacon, brie, strawberry preserves & syrup  $10
Scottish fry-up with eggs, bacon, home-fried potatoes, toast & jam  $10
Scotch egg plate with home-fried potatoes & bacon  $10
large Caesar salad with parmesan, bacon strips & a poached egg  $10
peameal bacon, lettuce & tomato sandwich  $10
onion ring wrap  $10
vegetarian haggis plate [vegan]  $10
breakfast poutine with two poached eggs  $15
haggis hash & gravy with two poached eggs in a Yorkshire pudding, home-fried potatoes & gravy
grilled cheese and bacon eggs Benedict  $14
fried egg club sandwich with home fried potatoes  $13
meat lovers plate (flank steak, strip & peameal bacon) with two eggs, home-fried potatoes, toast & jam  $16
breakfast burrito with Hollandaise sauce & home-fried potatoes   $14
INFORMATION & RESERVATIONS: 613-766-9296.
343 King Street, East, Kingston, Ontario.