(Formerly Sir John's Public House)
343 King Street (near Market Square) Kingston, Canada    Contact Us:  613-766-9296
About The Public House, Kingston



The Public House (formerly Sir John's Public House) occupies the building used by Sir John A. Macdonald as his law office from 1849 to 1860. Macdonald began his political career during this formative period and of course later became Canada's first Prime Minister. He is credited as being the individual most responsible for Canada's Confederation in 1867.The pub has a cozy atmosphere and reflects the style of the mid-nineteenth century when it was occupied by Macdonald. It is only fitting that today the building should be a Scottish pub heralding Sir John's Scottish origins and his fondness for the drink. The pub features a good selection of imported and local beers and a large selection of Scottish single malts and blended whiskies. The menu is reasonably-priced and features many traditional Scottish dishes and contemporary casual dining. Customer favourites included the fish & chips, the Angus beef burger plate, the Forfar bridie meat pie, the turkey pot pie and the lamb shank. Other lighter and vegan plates are featured as well. A Sunday Brunch is offered from 10:30 to 3 p.m. and presents a variety of tasty dishes for just $10 each.  Several lunch specials are available Monday to Saturday for just $10. From mid April to October 31 you can enjoy a beautifully decorated patio which faces King Street.
The Public House offers one of the best happy hours in Kingston.  From 4 to 6 p.m. enjoy hospitality in the main pub.  Great discounts for draft beer, local wine and feature liquor with snacks at the bar.  It is always popular with locals and visitors to Kingston as well.
Open daily from 11:00 to close (Sundays 10:30 a.m.) Lunch – Dinner -Sunday Brunch and late night service on Friday and Saturday.
Live Music at The Public House
Wednesday evenings from 4 p.m. are Country-Western Wednesdays featuring your favourite country tunes from 4 p.m. Lane Duke entertains from 8:00 to 11:00 p.m.  Half-price chicken wings are featured on Wednesdays after 6 p.m. and don't forget hospitality drink prices from 4 to 6 p.m.
Thursday nights, don't miss Ted Lalonde from 8:00 to 11:00.
Friday and Saturday guests artists will appear nightly from 9:00 to midnight including, among others, Jordy Jackson, Chris Jackson and Kingston's Smitty (Jay Smith).
Upcoming Special Events & Features

MARCH BURGER BARGAINS – Sundays to Thursdays during the month of March.
Enjoy our Angus beef burger or our tasty vegan burger with sides for just $11.99.
THE PUBLIC HOUSE LUNCH CLUB
Spend $10 or more on food before 3 p.m. any day and receive a thistle credit.  After 4 thistle credits redeem a food item of up to $13 any day before 3 p.m.
Only one credit per person per occasion please.  Pick up your Lunch Card in the pub.
Weekly Features



MONDAY TO FRIDAY – Happy Hours (4:00 to 6:00 p.m.) – draft pints, house wine & rail liquor just $5.31
SUNDAY TO THURSDAY – after 10 p.m. domestic pitchers (60 oz.) $15.93
MONDAYS – domestic pints $5.75 all day (except Happy Hours 4:00 – 6:00)
TUESDAYS – 1/2 price Thistle Chips after 6 p.m.
WEDNESDAYS – 1/2 price chicken wings after 6 p.m.
THURSDAYS – 1/2 price nachos after 6 p.m.
SUNDAYS – $3.98 Caesars from 11:00 a.m. to 6 p.m.  / Brunch from 10:30 – 3 p.m.
SUNDAYS – SERVICE INDUSTRY NIGHT – 9:00 p.m. to 2:00 a.m. – $5.31 Moosehead Lager pints & $4.42 Jameson shots (1 oz.)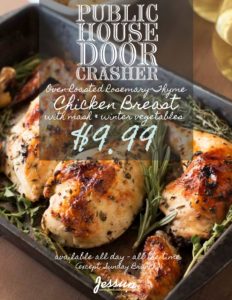 DAILY DOOR CRASHER SPECIAL – $9.99
Every day, all the time, enjoy our oven-roasted rosemary-thyme chicken breast with mashed potatoes and vegetable medley – Just $9.99


DRAFT BEER & CIDER SELECTIONS
LOCAL OR REGIONAL
Skeleton Park (Kingston, Ontario)
Beaus Lugtread Lager (VanKleek Hill, Ontario)
MacKinnon Brothers Brewing Company (Bath, Ontario)
Riverhead Brewing Company (Kingston, Ontario)
NATIONAL OR IMPORTED
Moosehead Lager (New Brunswick)
Tennents Lager (Scotland)
Angry Orchard Cider (USA)
Cracked Canoe Lager (New Brunswick)
Hot Bot Brewing Company (Toronto, Ontario)
Guinness (Ireland)
Fall & Winter Menu 2018/19

Our winter menu features some new items definitely worth a try.  Home-cooked comfort food is our specialty and we will try not to disappoint.
winter-menu-page-1    winter-menu-page-2    winter-menu-page-3
SUNDAY BRUNCH   (served from 10:30 to 3 p.m.)
BRUNCH MENU
INFORMATION & RESERVATIONS: 613-766-9296.
343 King Street, East, Kingston, Ontario.
Paul.Fortier@foodandheritage.com