Express Over-the-Counter Take-Out at The Public House

Daily from 11:30 a.m. to 8:00 p.m. come to The Public House for these take-out offerings. Call ahead (613-766-9296) or wait up to 15 minutes for your order to be prepared. These meals are not available for delivery service. Payment is accepted in cash, debit or credit card on site. Should you want curb-side delivery we can offer that too with debit or credit card payment at your car.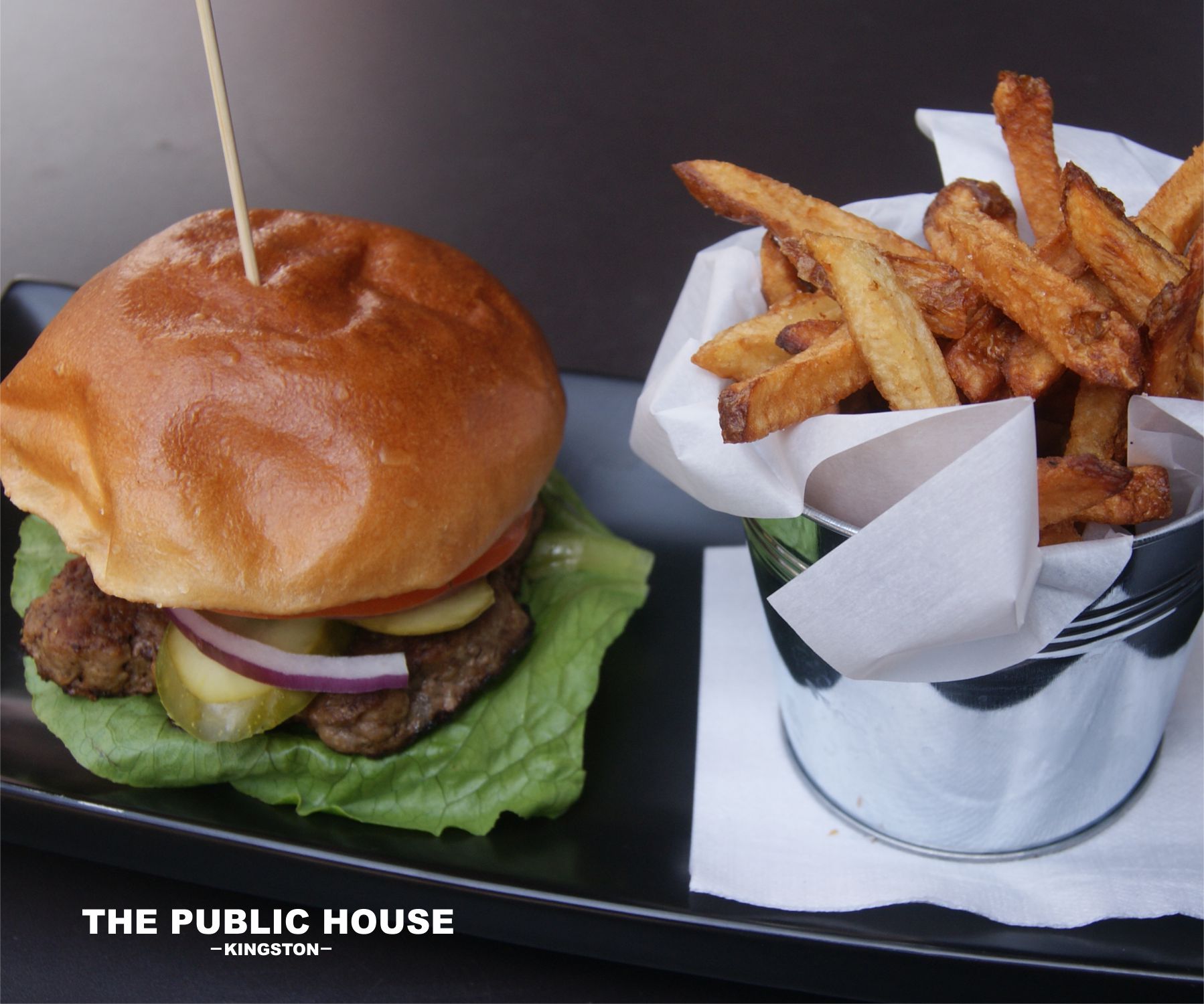 Prior to Christmas, explore our holiday food items available for pick-up at Renaissance Event Venue (285 Queen Street) or The Public House. We want to make your holiday entertaining this year easy! Click on the image above to see our full holiday take-away offerings including our famous roast turkey dinner!
$6.95 DEALS
burger & fries: a beef burger with tomato, pickle, onion, lettuce, mayonnaise & French fries
pulled pork tacos: two tacos filled with smokey BBQ pulled pork, pickled onions, lettuce, peppers, purple cabbage & radish
bacon poutine: crispy fries & bacon combine with squeeky cheese curds & rich beef gravy
perogies: 10 potato & cheese perogies with sour cream & sauteed onions
spaghetti & meat balls: in a tomato basil sauce with 4 meat balls & shaved parmesan
Asian noodle salad: spicy noodles & vegetables with Thai dressing, crushed peanuts & sesame seeds
FROM THE REGULAR MENU (DISCOUNTED FOR TAKE-OUT)

For take-out orders from the regular menu we offer approximately 10% discount from our eat-in price. The prices listed below are discounted from the regular eat-in menu. Some orders from the regular menu may take up to 15 minutes from time or ordering.
Whole chicken wings: barbeque, hot, medium, honey-garlic, Cajun dry-rub, tandoori, jerk: 5 whole wings $9 / 10 wings $17 / 15 wings $25
Pad Thai fries: crispy French fries tossed in a pad Thai sauce with bean sprouts & crushed peanuts: $9
Home cut French fries: $6
Nachos: corn chips, cheddar & squeeze cheese, diced vegetables, olives cilantro, salsa & sour cream: $13 / with bacon $16 / with pulled pork $16
Large poutine: Wilton cheese curds & gravy: $12 / with bacon $15 / with pulled pork $15
Chicken pot pie poutine: crispy fries with Wilton Cheese curds topped with a rich chicken sauce and chunks of braised chicken $14
Caesar salad: romaine with a creamy garlic dressing, shaved parmigiano, croutons & crispy bacon: large $12 / small $7
French onion soup: a rich onion & beef broth topped with a garlic crouton & mozzarella cheese: $9
Chef's soup of the day: Chef Wemp's pick with local fresh ingredients when possible: large $8 / small $5
Classic French onion soup:
Beef dip sandwich: a soft baguette filled with sliced juicy roast beef & caramelized onions; served with beef jus & horse radish on the side: $16
Chef's classic burger: 8 oz beef burger with bacon, cheddar cheese & sauteed mushrooms / served with French fries: $15
Plant-based vegan burger: house-made began burger with hummus spread, tomato, onion & lettuce / served with French fries: $13
Montreal smoked beef sandwich: 8 ounces of smoked briskett with mustard & caramelized onions / served with French fries: $17
Chicken Caesar wrap: flour tortilla filled with crispy chicken, romaine lettuce, bacon pieces, shaved parmigiano, croutons & Caesar salad dressing / served with French fries: $15
Traditional British minced beef pie: savoury meat pie with gravy & sweet potato puree: $15
Grilled flat-iron steak frites: 5 oz grilled steak with garlic butter, French fries & garlic mayonnaise: $15
Chicken curry: braised chicken pieces & veggies in a mild curry sauce over basmati rice: $18
Braised lamb shank: a tender lamb shank with rich gravy, mashed potatoes & fall vegetable medley: $20
Pita pizza putanesca: a pita base pizza with tomato sauce, red onions, garlic chili flakes, capers, sliced olives, seasoning, mozzarella & parmigiano: $11
Fish & chips: one large piece of breaded haddock with French fries, tartar sauce & cabbage salad: $15
Whisky BBQ ribs: a half rack of smoked side ribs with French fries, cabbage salad & corn on the cob: $15
Chicken fingers: served with French fries, veggie sticks & dipping sauces: $13
Sticky toffee pudding: served with caramel sauce: $7
Apple dumplings: two deep-fried apple dumplings with caramel sauce & whipped cream: $7
liquor
WINE: Three Dog Vidal (750 ml): $21
WINE: Three Dog Red (cabernet-merlot blend): $21
BEER: MacKinnon Brothers Red Fox Ale (473 ml): $5.25
BEER: Skeleton Park Proper English (473 ml): $5.25
COOLER: Smirnoff Ice (355 ml): $5.25
COOLER: Twisted Tea (355 ml): $5.25
COOLER: Mike's Hard Lemonade (355 ml): $5.25
COOLER: White Claw [lime / mango / berry](473 ml): $6.25
(prices do not include sales tax / must be 19 years of age for ordering liquor)
ORDERING: call 613-766-9296 / cell: 613-329-5613
Contact us at THE PUBLIC HOUSE, 343 King Street, East, Kingston
main office: 613-766-9296 or 613-530-2550
e-mail: Paul.Fortier@foodandheritage.com