Weddings at Fort Henry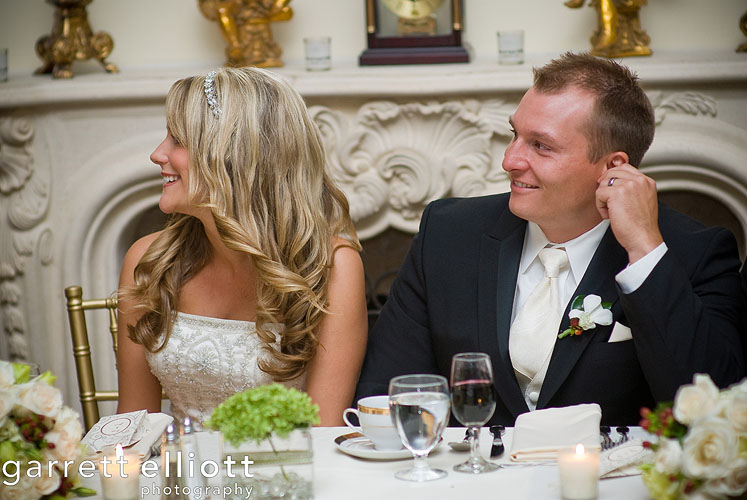 …making memories that last a lifetime…
Fort Henry provides a magical venue for your wedding ceremony, reception and banquet.  Fort Henry's unique setting make your event distinctive for you and your guests.  The memories will last a lifetime and your wedding event will stand out in the minds of your guests for many years.
Venues
Fort Henry offers a variety of heritage venues for your event:
Wellington, Victoria and Bonnycastle Rooms
168 guests seated (3 linked rooms with an individual capacity of 56);
250 guests for a stand-up reception
Macdonald and Bredin Rooms
50 guests seated each;
75 guests for a stand-up reception;
wedding ceremony for 70 guests seated theatre-style
Tented Events on the Parade Square
up to 500 guests for ceremony, banquet and reception
Fort Henry's East Park overlooking the 1,000 Islands
is the venue for many outdoor wedding ceremonies.
A Typical Wedding Scenario at Fort Henry
4:30: Wedding Ceremony – East Park, Fort Henry
5:00: Reception – tray service h'ors d'oeuvre – host bar service
6:00:  Bugle Call to Dinner
6:00 – 8:30: Wedding Banquet served by soldier servants
8:30: Toasts and Remarks
9:00: First Dance
9:30: Cutting and Service of the Wedding Cake
10:00: Presentation of the Midnight Table
Costs and Estimates
There is a basic per capita rental fee of $2.50 per person for use of any of the Fort Henry facilities.  Other costs include food and beverage service, any rentals that may be required to support your event and enhancements such as bagpipers and horse-drawn carriages that may be requested by the client.
All food and beverage services are provided by Jessup Food & Heritage.  We are happy to meet your needs and budget as much as is possible.  A variety of table service banquet menus exist for your consideration and are available on request.  As well we are pleased to quote for custom buffets menus, reception menus or other table service options at your request.
Liquor service is provided by Jessup Food & Heritage and all venues are licensed for the sale of wine, spirits and beer.  Private wine, liquor and beer may under certain circumstances be brought onto the site with a special occasion permit for no-sale events.  Corkage fees will apply in these circumstances.
We are pleased to offer estimates and scenarios for your consideration.  Please contact us with details of your proposed event and we will return your estimate as quickly as possible.