Home for the Holidays


Let our talented staff help you navigate your home entertaining needs!
Browse our Holiday Entertaining Catalogue
This has been a challenging year for us all! Our holiday celebrations will be different for sure and we at Jessup Food & Heritage want to help you have a safe and healthy holiday! We have been celebrating Christmas at our traditional venues for over 30 years now and want to share with you some of our favourite holiday meals and dishes. We want to remove the stress and allow you to enjoy the holidays with your close family and friends while we do the cooking! Whether for yourself or for family, colleagues and friends, I know you won't be disappointed! Let us know how we may help you celebrate this Christmas!
1. Roast Turkey Dinner $16
This dinner will remind you of Christmas dinner with Grandma! A classical medley of roast turkey, dressing, gravy, mashed potatoes, turnip casserole & cranberry sauce will make you think of Christmases past!
(individually packed & chilled with service instructions; reheat & serve; dinner for one)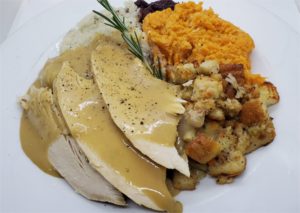 2. Traditional Stuffing
This is a traditional bread stuffing with turkey pieces, diced apple, diced vegetables, turkey stock & seasoning. (comes frozen; thaw, reheat & serve)
half-litre: $7 / one litre: $13
3. Rich Turkey Gravy
This rich gravy is made from turkey stock, roux & seasoning. (comes frozen; thaw, reheat & serve)
half-litre: $7 / full-litre: $13
4. French Canadian Tourtière $16
Enjoy our traditional tourtière (minced pork & beef) with top & bottom crusts. These pies are still a holiday classic in French Canadian homes. (9 inches; comes frozen; thaw, re-heat and serve; serves 6)

5. Renaissance Cranberry Sauce
This is a traditional cranberry sauce made with fresh cranberries, ginger root, orange, apricot & mint. It will be an amazing accompaniment to any holiday meal!
(comes frozen; thaw & serve)
half-litre: $8 / full-litre: $15
6. Cranberry & Onion Marmalade $6
Add bacon to a cranberry, onion & orange marmalade & you have reached heaven. This is an amazing topping for crostini other holiday treats!
jar (200 gm.)
7. Four Mulled Wine Sachets $6
Let us take the fuss out of your holiday mulled wine with a sachet filled with the perfect spice mix for one glass of mulled red wine (use 4 for one 750 ml bottle)! The aromas will fill your home with holiday cheer! Drop a sachet into your glass, warm in the microwave and allow to steep. For a bottle use all 4 sachets and warm in a pot on the stove and allow to steep.
(4 sachets per package)
8. Cranberry Walnut Cheese Ball $7
This delicious cheese ball with minced cranberries & walnuts is a holiday hit. It is the perfect savoury centre-piece for any reception or buffet.
(packed frozen / 285 gm.)

9. Traditional Christmas Pudding $16
Figgy pudding or plum pudding was a traditional holiday dessert in the 18th and 19th centuries. This steamed rich pudding will be a delight on the holiday table! This pudding may easily serve 6 to 8 guests. Serve it warm with a brandy or rum sauce.

10. Three Dog Winery Gift Box $35
Beautifully packaged inside you will find a 750 ml. bottle of Dog House Red (a Cabernet-Merlot blend) & Bog House White (a vidal-reisling blend). Both will compliment any holiday celebration. Also find two mulled wine sachets and a complimentary tasting coupon for Three Dog Winery in near-by Prince Edward County.
ORDER ON-LINE OR BY TELEPHONE
Use our ordering form on-line (below) or call 613-530-2550 to place your order over the telephone. All orders must be paid in advance. All orders must be received two days or 48 hours prior to the desired pick-up date. Orders may be picked up at Renaissance Event Venue Mondays and Thursdays from 11:00 a.m. to 2 p.m. from December 3 to December 24. Special arrangements may be made for pick up if these times are unsuitable.
Payment may be made with a credit card using our on-line order form (below) or over the phone. Invoices may be pre-paid in person at The Public House most days of the week from 11:30 a.m.
PICK UP AT THE PUBLIC HOUSE
Most products are available at The Public House, over the counter, from 11:30 a.m. until 4 p.m. daily. If ordering more than 5 items it is best to use the on-line form below or telephone ordering as above.
CATERING
If ordering more than 10 turkey dinners we are able to deliver with orders received two days in advance and pre-payment. Call the number above with orders and delivery instructions.
Thanks for your support of our local Kingston business and we wish you and your family and friends a very Merry Christmas!
Paul Fortier
Jessup Food & Heritage, Ltd.
613-530-2550
www.foodandheritage.com
Paul.Fortier@foodandheritage.com