Christmas Turkey Dinner Take-Out
This has been a challenging time for us all. As we look to celebrating the holidays many will not want to shop in the busy grocery stores or cook at home or choose to eat in a restaurant. Renaissance is offering the chance to pick up a hearty home-cooked turkey dinner with all of the trimmings for just $19.95 (plus taxes). See ordering and pick-up details below. We wish you all a Merry Christmas and look forward to serving you in the New Year!
ORDERING IS NOW CLOSED FOR 2021. Thank you all for your orders and have a very merry Christmas!
1. Roast Turkey Dinner $19.95
This dinner will remind you of Christmas dinner with Grandma! A classical medley of roast turkey, dressing, gravy, mashed potatoes, turnip casserole & cranberry sauce will make you think of Christmases past!
(individually packed & chilled with service instructions; reheat & serve; dinner for one; the cranberry sauce and gravy are packed separately)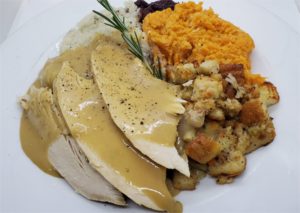 2. Apple-Cranberry Crumble $5.95
Our crumble is made with local apples and the perfect amounts of holiday seasonings including cinnamon, nutmeg, ginger and cloves. A hand-full of cranberries are added to provide a bit of tartness and seasonal colour.
Paul Fortier
Jessup Food & Heritage, Ltd.
613-530-2550
Paul.Fortier@foodandheritage.com