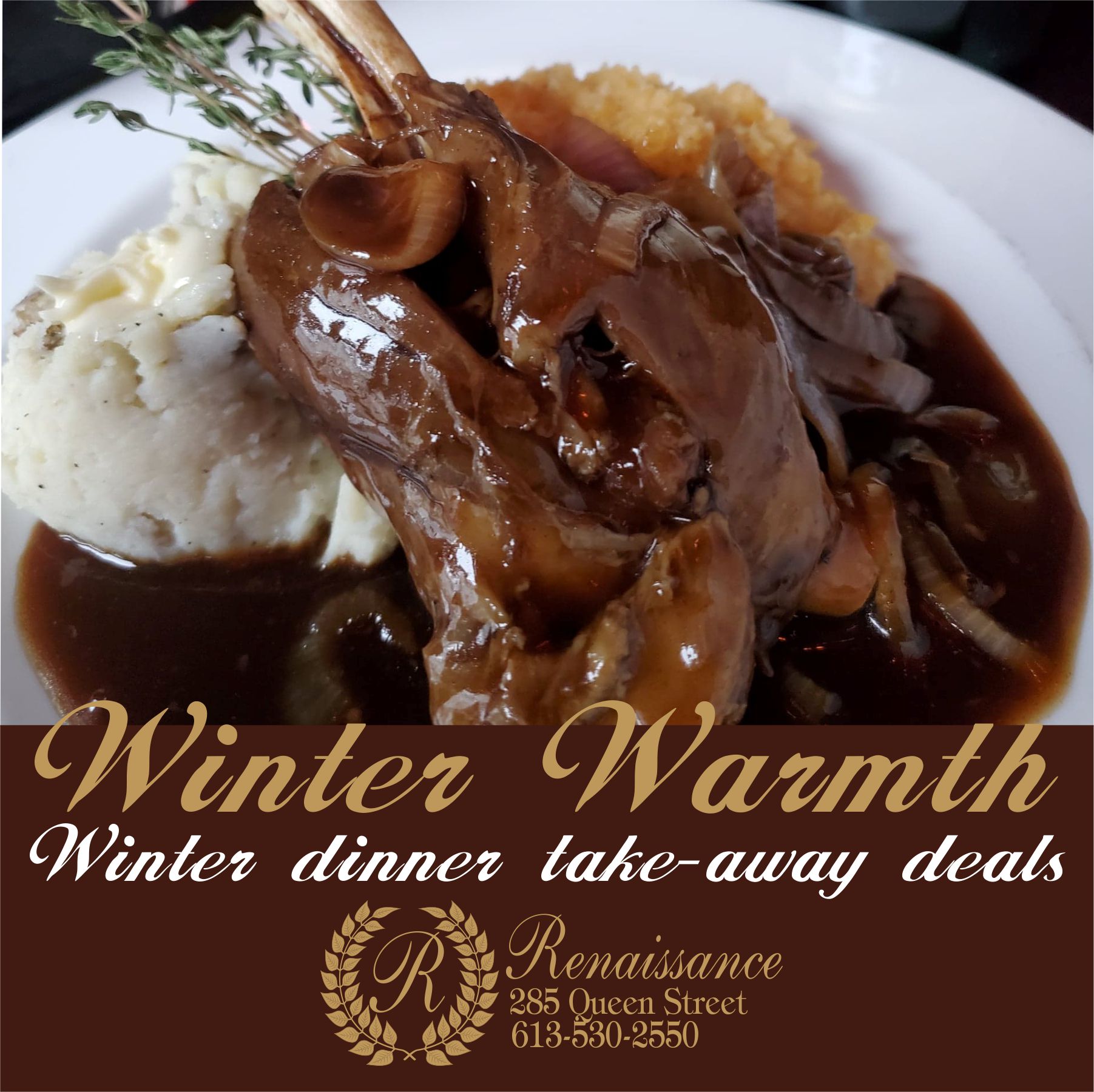 THE WINTER WARMTH DEAL
Back by popular demand for 2022 is our Winter Warmth program (formerly Spring Fling). This season we will offer 5 meals over a period of 5 weeks beginning January 20 and ending February 19. Each meal will cost $14.95; however if you purchase all 5 meals the cost is just $64.95 (or just $12.99 per meal). If you purchase 5 or more of any single meal the cost will be $64.95 (or $12.99 for each meal). Your orders of multiple orders of single meals can be made prior to the respective order cut-off date. JANUARY 20 IS THE DEADLINE FOR ORDERING THE PACKAGE OF ALL 5 MEALS. We appreciate your support as we struggle to get through another lock-down and put this pandemic behind us.
NOTE: IF YOU ARE HAVING DIFFICULTY SUBMITTING THE ELECTRONIC FORM BELOW PLEASE CALL US DIRECTLY WITH YOUR ORDER. 613-530-2550
THE MEALS
ordering by January 20: braised lamb shank in a rich gravy with buttery mashed potatoes & turnip casserole
ordering by January 27: braised beef and vegetables bourguignon on a bed of buttery mashed potatoes
ordering by February 3: stuffed roast of pork with sweet potato puree and deep-fried Brussels sprouts
ordering by February 10: rich butter chicken with basmati rice
ordering by February 17: braised bbq pork ribs with mashed potatoes and baked navy beans
The meals will be chill-packed with re-heating instructions. Meals may be frozen to be eaten at a later date.
HOW DO I ORDER
Complete the form below with payment information or call 613-530-2550 to place an order over the telephone. If you are not able to reach us by telephone, please leave a detailed message and we will return your call as soon as possible.
HOW DO I PICK UP MY MEALS
You will pick up your meals at Renaissance on the days and times indicated. Should you be unable to pick up your meals during those specific times please contact us to make other arrangements. Pick-up will be on the north side of Renaissance with free parking off of Colborne Street. Follow the signs for take-out service (down a few stairs on the north side). Do not come to the front glass atrium facing Queen Street).
Paul Fortier
Jessup Food & Heritage, Ltd.
613-530-2550
Paul.Fortier@foodandheritage.com