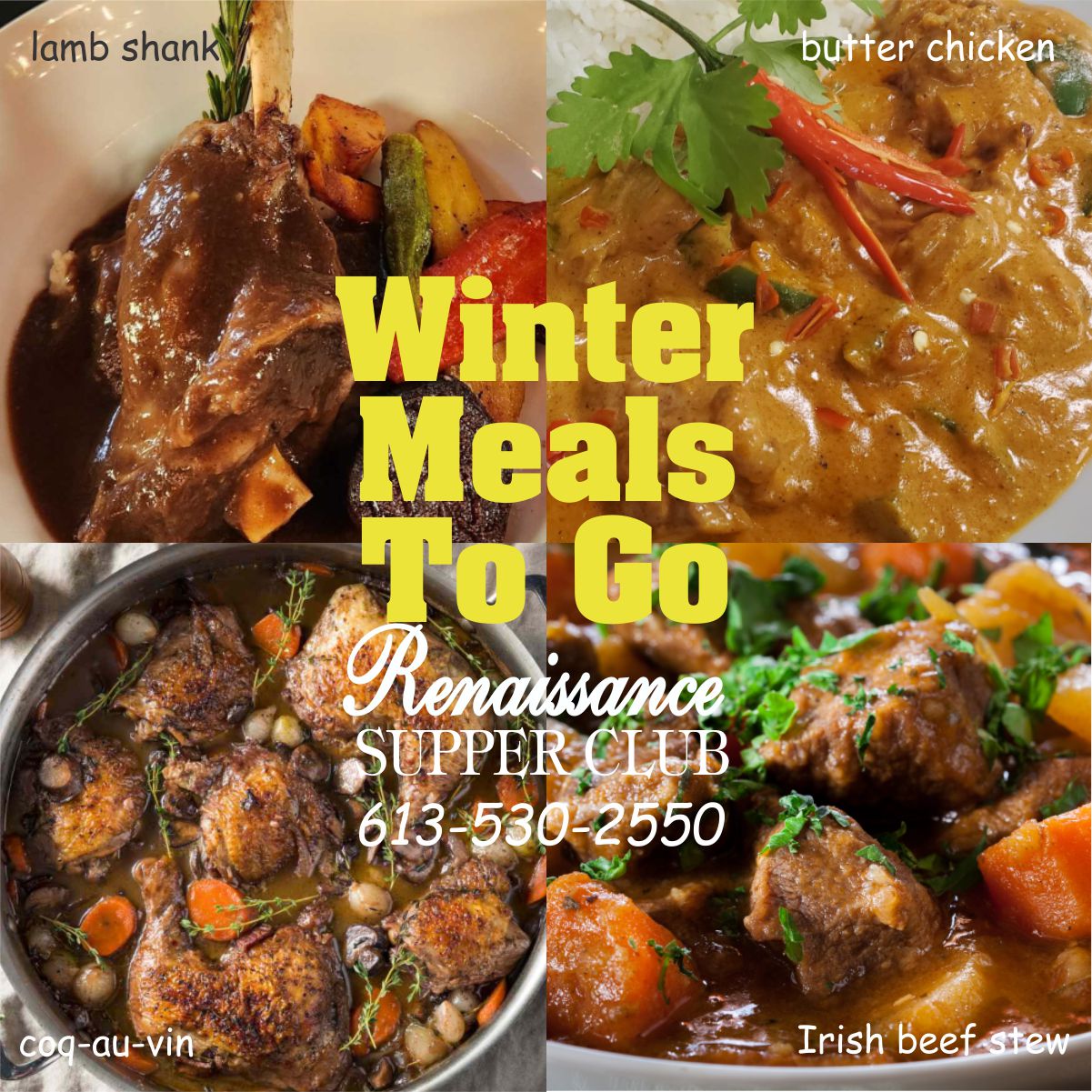 WINTER MEALS TO GO

As winter breaths its last gasps Renaissance is offering chill-packed dinners to go for the next month until March 25. These comfort foods will warm the soul and are filled with the richness of flavour and quality of products you have learned to expect from us. Order as many of the four meals you choose as often as you wish. Meals are priced separately and may be picked up at Renaissance any Friday or Saturday afternoon between 4 and 6 p.m. until March 25. Use our on-line order form or call us at 613-530-2550 to place an order for pick-up. All orders must be pre-paid and a delivery date should be indicated. A complete description of the meals and ordering instructions is available
THE MEALS (keep watching for new meals to be added during the period)

Chill-packed meals ready for reheating at home (these meals may be frozen to be eaten at a later date within a 4 week period).
1. lamb shank: a perfectly braised lamb shank in a rich gravy with creamy mashed potatoes and a seasonal vegetable medley. $19.95 plus taxes;
2. butter chicken: a rich mild curry sauce with tender chicken pieces on basmatti rice. $16.95 plus taxes;
3. coq-au-vin: two braised chicken legs and thighs in a rich red wine sauce with vegetables on a bed of creamy mashed potatoes. $16.95 plus taxes;
4. Irish beef stew: St. Patrick would be proud of this stew featuring tender beef chunks and a rich gravy with potatoes and other root vegetables. $16.95 plus taxes
HOW DO I ORDER
Complete the form below or call 613-530-2550 to place an order over the telephone. You may order as many of each of the four meals as you wish. Meals must be pre-paid and you must indicate a pick-up date (any Friday or Saturday from 4:00 to 6:00 p.m. at Renaissance until March 25). NOTE THAT ORDERS MUST BE RECEIVED AT LEAST 36 HOURS PRIOR TO THE REQUESTED PICK-UP. If you are not able to reach us by telephone, please leave a detailed message and we will return your call as soon as possible.
NOTE: IF YOU ARE HAVING DIFFICULTY SUBMITTING THE ELECTRONIC FORM BELOW PLEASE CALL US DIRECTLY WITH YOUR ORDER. 613-530-2550
HOW DO I PICK UP MY MEALS
All meals will be pick-ed up at Renaissance on any Friday and Saturday between the hours of 4 p.m. and 6 p.m. INDICATE YOUR PICK-UP DATE WHEN ORDERING. Enter at the front glass atrium of the building facing Queen Street. Convenient parking is available on the west side of the building with access off of Queen Street or in the real parking lot off of Colborne Street.
Paul Fortier
Jessup Food & Heritage, Ltd.
613-530-2550
Paul.Fortier@foodandheritage.com