About Us
Jessup Food & Heritage, Ltd.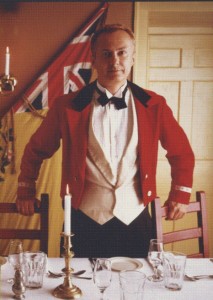 Jessup Food & Heritage Limited provides a sound administrative base for a recognized food-service company dedicated to the presentation of food programs in heritage settings. The business began by delivering banquet and casual dining programs at Prescott's historic Stockade Barracks in 1989. Beginning in 1994, the business has been proud to be the food-service provider at Fort Henry in Kingston, the Citadel of Upper Canada.  From 1997 to 2006 Jessup Food & Heritage delivered food service programs at Upper Canada Village in the Harvest Barn, the Village Café and the historic Willard's Hotel. Upper Canada Village is Eastern Ontario's premier heritage attraction and Jessup Food & Heritage with Upper Canada Village developed a series of exciting food-service programs that catered to the needs of local clients as well as touring visitors. From 1999 to 2004 Jessup was the exclusive food service provider at  historic Fort York in Toronto where the company delivered a host of exciting heritage food programs similar to programs delivered at the Stockade Barracks in Prescott and Fort Henry in Kingston.   In July, 2008, Jessup opened Renaissance Event Venue at 285 Queen Street, Kingston.   This historic building is Kingston's oldest surviving church structure and now houses the city's premier wedding venue.  In the spring of 2011 Jessup purchased an historic building on King Street in Kingston which had been the former law office of Sir John A. Macdonald from 1849 to 1860.  Shortly after the company opened Sir John's Public House in this building.  The Scottish pub pay tribute to Canada's first prime minister and offers a a variety of traditional Scottish and contemporary pub food.  The pub has become a popular place for locals with its many daily food and beverage features and to visitors to Kingston who want to have a Sir John A. experience!
The culture of Jessup is built on quality client-service, hospitality and integrity of programming. Jessup is ahead of its time in partnering and working with heritage agencies and groups to develop appropriate business-related activities that mesh with the values and historic sites, heritage buildings and museums. As well, Jessup is aware of current trends that impact on historic site visitation and has tried to be cautiously innovative to keep services in tune with changing customer needs and market trends.
One of Jessup's strengths is the expert historical knowledge and training of Paul Fortier. Mr. Fortier's education and past experience as a historian and curator with Parks Canada and the National Archives of Canada allow him to develop food service programs that reflect the heritage themes of various heritage settings.   His business experience permits an innovative mix of the past and current hospitality needs to provide winning and appealing experiences for guests.
Who is Jessup:
The company is named after a little-known Canadian hero.  Edward Jessup constructed the building owned and restored by Paul Fortier which housed the first restaurant; The Stockade Barracks in Prescott.  Major Edward Jessup was born in Stamford, Connecticut in December 1735. Later, as a boy, Edward moved with his family to central New York. In 1759 as a Captain in the New York Provincial Corps, Jessup raised a company of men and fought against the French in the 1759 campaign. Edward and his brother Ebenezer soon become prominent business men in the Albany area. Edward was a close friend of Sir William Johnson and was a Justice of the Peace in the City and County of Albany. When the American Revolution broke out Edward and Ebenezer remained loyal to King George and raised a Corps of Loyalists in the central New York region. "Jessup's Corps" fought with the Burgoyne Campaign of 1777 and surrendered with the rest of General Burgoyne's force at Saratoga. The corps was restructured in 1781 and renamed the Loyal Rangers or "Jessup's" Rangers. At the end of the American Revolution in 1783 Edward Jessup and the officers and men of the Loyal Rangers received land grants on the north shore of the St. Lawrence River and in the Kingston area. Jessup, as did the other Loyalists, made significant personal sacrifices in order to build new homes and communities in a wilderness. Despite the hardships, Edward Jessup build a new home and founded the Town of Prescott on his land grant.  Jessup would see a second war with the United States. He died in February 1816 after having made a distinctive mark on a new country.