CHRISTMAS CANDLELIGHT DINING AT RENAISSANCE – 2021



DINE IN:
Renaissance is the perfect venue in which to celebrate this holiday season with family, colleagues and friends. We will be open for casual groups (from one to many) most days from November 29 to December 30 from 5 p.m. For a full list of complete availability see the list below. Note that we will be closed Christmas Eve, Christmas Day and Boxing Day. Call us for availability. Exclusive bookings for large groups are also available any day or night. You may want to bring in a small group for a lunch event. Contact us for information. Reserve your table as soon as possible to avoid disappointment. See our flexible menu below. Of course, we will feature our traditional roast turkey dinner. A full bar service is available. Covid-19 protocols will be in place. Vaccine verification is required.
AVAILABILITY: NEW DATES AVAILABLE
Dates have booked solid quickly. These are the only dates that we still have availability for casual groups:
Monday, November 29;
Tuesday, November 30;
Wednesday, December 1;
Thursday, December 2
Monday, December 6;
Tuesday, December 7;
Wednesday, December 8;
Saturday, December 11;
Sunday, December 12;
Tuesday, December 14;
Wednesday, December 15;
Sunday, December 19;
Monday, December 20;
Tuesday, December 21;
Wednesday, December 22;
Tuesday, December 28;
Wednesday, December 29;
Thursday, December 30.
FEATURE CANDLELIGHT HOLIDAY DINING MENU:
1st Course
choice of:
Chef's Soup of the Day; or
Holiday Garden Salad of Mixed Greens with Dried Fruit, Candied Walnuts & Honey-Dijon Vinaigrette
2nd Course
choice of:
Roast Turkey Dinner with Traditional Dressing, Mashed Potatoes, Turkey Gravy, Cranberry Sauce & Vegetable Medley; or
Savoury Québec Tourtière (beef & pork) with Gravy, Mashed Potatoes & Vegetable Medley; or
Beef Bourguignon with a Savoury Sauce, Mashed Potatoes & Vegetable Medley; or
Baked Salmon Napoleon with Buttery Polenta, Roasted Vegetables & Sauce Hollandaise; or
Mixed Rustic Mushroom Etouffée à la Nouvelle Orléans on a Bed of Mashed Potatoes [vegan]
Dessert:
choice of:
French Canadian Sugar Pie with Whipped Cream; or
English Sherry Trifle; or
Apple-Cranberry Crumble with Whipped Cream
served with assorted rolls & breads & holiday pickle plate
3-course dinner with all options: $35 per person;
any main course only: $21`
any starter or dessert only: $8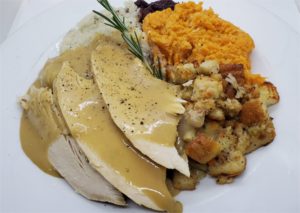 FOR CLIENTS LOOKING FOR EXCLUSIVE GROUP BOOKINGS SEE THIS HOLIDAY MENU: holiday-banquet-menu-2021
RESERVATIONS OR INFORMATION: 613-530-2550
WANT TO ORDER TAKE-OUT TURKEY DINNER?
If you're not wanting to cook at home or eat in a restaurant follow this link to see our turkey take-out option. TURKEY TAKE-OUT
For questions, contact: Paul.Fortier@foodandheritage.com
Jessup Food & Heritage, Ltd., 285 Queen Street, Kingston, K7K 1B7 613-530-2550