THANKSGIVING AT RENAISSANCE
DINE IN:
Renaissance is the perfect venue to celebrate your Thanksgiving in 2021. Let us do the cooking and clean up the mess. We will be open for casual groups (from one to many) on Saturday, October 9, from 4 p.m. and Sunday, October 10, from noon. Reserve your table as soon as possible to avoid disappointment. See our table d'hôte menu below which will feature our traditional holiday menu including our roast turkey dinner. A full bar service is available. Covid-19 protocols will be in place and tables will be distanced one from the other. The dine-in cost for the 3-course meal is $33.95 per adult and $26.95 for children 16 years and under. A child's meal (12 years and under) of chicken fingers, veggie sticks and dipping sauces with choice of dessert and beverage is available for $19.95.
Table d'hôte Menu:
Starters:
Roasted Beet & Chèvre Salad with Mixed Greens & Balsamic Vinaigrette; or
Potage of Roasted Root Vegetables with Toasted Cumin & Cardamum
Mains:
Roast Turkey with Buttery Mashed Potatoes, Traditional Dressing, Turkey Gravy, Cranberry Sauce & Turnip Casserole; or
Braised Lamb Shank with Rich Gravy, Buttery Mashed Potatoes & Turnip Casserole; or
Baked Salmon Napoleon with Polenta, Roasted Red Peppers & a Dill-Pea Puree; or
Mixed Mushroom Etouffée à la Nouvelle Orléans [vegan]
Desserts:
Apple-Cranberry Crumble with Whipped Cream; or
Pumpkin Pie with Whipped Cream; or
English Sherry Trifle.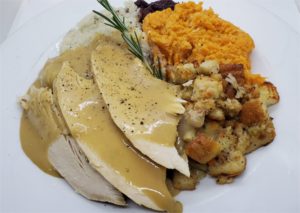 TAKE-AWAY:
Two meals (MAIN COURSE ONLY) and one dessert are available for take away. Choose the roast turkey or the lamb shank dinner and apple-cranberry crumble for dessert. All meals are picked up at Renaissance Event Venue, 285 Queen Street, Saturdays from 11:00 a.m. and 2 p.m. All meals are chill-packed in foil containers with clear instructions on re-heating and service. Meals may be frozen for up to two months. Payment is required in advance with a credit card using our order form below or call our customer service number with credit card information. HST will be applied to each purchase. Your credit card will be charged according to your order. Note that the web site is now secure. See the attached order form for take-away orders:
send an e-mail inquiry to: Paul.Fortier@foodandheritage.com
Jessup Food & Heritage, Ltd., 285 Queen Street, Kingston, K7K 1B7 613-530-2550